Best Neurosurgeons in the World 2023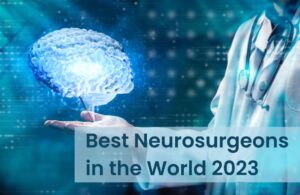 The area of neurosurgery has seen considerable advancements in recent years as medical technology develops further. As a result, neurosurgeons with extensive training and experience are crucial in diagnosing and caring for complex brain, spine, and nervous system diseases. The top neurosurgeons in the world are setting the pace in 2023 when it comes to creating cutting-edge procedures and therapies. They are helping patients with a range of neurological problems in obtaining better results and a higher quality of life.
In addition to being technically adept, these surgeons have a thorough awareness of the complex interactions between the brain, the neurological system, and the rest of the body, which enables them to offer comprehensive and efficient care. This article is written to provide basic info about some of the world's best neurosurgeons.
1. Dr. Peter Black, MA, USA
Dr. Peter M. Black is a neurosurgeon in Boston, Massachusetts. He took his medical degree from McGill University Faculty of Medicine and has practiced for over 20 years. He is Franc D. Ingraham, a Professor of Neurosurgery at Harvard Medical School. Besides this, he is also the Chair of the Department of Neurosurgery at Brigham and Women's Hospital and Children's Hospital, Boston. He is also the chief of neurosurgical oncology at the Dana-Farber Cancer Institute. Dr. Peter Black is also the author of "Living with a brain tumor."
Expertise
Neurosurgery
Brain and spinal tumor surgery
Pituitary surgery
Skull base
2. Dr. Robert Harbaugh, Hershey, Pennsylvania
Dr. Robert Harbaugh has a lifetime achievement award in neurosurgery. He has over 44 years of experience in the medical field. He also served as the American Board of Neurological Surgery director and vice chair of the Accreditation Council for Graduate Medical Education's Neurosurgery Review Committee. Dr. Robert Harbaugh has an affiliation with Santa Ynez Valley Cottage Hospital. He is the distinguished Professor and Chair of the Department of Neurosurgery at Penn State Health Milton S. Hershey Medical Center, where he has served since 2010.
Expertise
Brain & Spinal Tumor
Cerebrovascular Neurosurgery
Neurocritical Care
3. Ali Zirh, Istanbul, Turkey
Associate Professor Ali Zirh is a notable neurologist and neurosurgeon from Turkey. He has been practicing functional neurosurgery for more than 30 years, both clinically and surgically. In 1983, he began his training in neurosurgery at Marmara University's College of Medicine. In 1987, Ali Zirh started working at the VKV American Hospital after returning from the US. About 1000 deep brain stimulation (DBS) treatments and over 1500 effective surgical operations for Parkinson's disease and other movement disorders have been completed by him.
Expertise
Deep brain stimulation treatment
Neurosurgery
Parkinson's disease treatment
4. Dr. Bartolome Oliver, Spain
Dr. Bartolome Oliver is one of the world's most famous and renowned neurosurgeons. He currently heads the Teknon Clinic's Neurosurgical Department. In addition, he is the supervisor of the Oliver-Ayat Neurological Institute. He uses robotic technology for minimally invasive surgery. Moreover, he has over 45 years of experience with spinal surgery and neurosurgery. He is known for his procedures at the base of the skull and brain tumor surgeries, spinal surgeries, and OCD surgery. He was one first to use robotic technology as a minimally invasive procedure. In addition, he performs over 150 lumbar surgeries annually and over 40 cervical spine surgeries, including disc prostheses.
Expertise
Brain benign and malignant growths;
Epilepsy
Parkinson's disease
Intervertebral hernia
Trigeminal neuralgia
5. Dr. Michael McDermott, Florida USA
Michael McDermott is a neurosurgeon who holds broad certification. He is in charge of all the division's educational and clinical endeavors as chief of the neuroscience division. He also holds the position of Chief Medical Officer at Baptist Health South Florida's Miami Neuroscience Institute. He graduated from the University of British Columbia in Canada with a residency in Neurosurgery. More than 400 peer-reviewed articles based on McDermott's research have been produced during the course of his career.
Expertise
Meningiomas
Skull base tumor
Radiosurgery
Alzheimer's
6. Dr Franco DeMonte, Texas, USA
Since 1992, Dr. Franco DeMonte has been a part of the department at the University of Texas MD Anderson Cancer Center in Houston. He serves as a professor of neurosurgery and head-neck surgery there. Moreover, he oversees the Cranial Base Surgery section. He is also the director of the Endoscopic Center for Clinical Application's laboratory. In addition, he has written more than 50 book chapters, more than 185 peer-reviewed articles, and five volumes as an editor. Dr. DeMonte is a well-known expert in neurosurgery and head and neck surgery, focusing on treating tumors around the base of the skull.
Expertise
Brain and Spinal Tumor
Skull Base
7. K. Daniel Riew, New York, USA
Dr. Daniel Riew is a famous expert in surgeries for cervical spine disorders. He has consistently been included in America's best and New York super doctors for the past 20 years. After getting his degree from Harvard College, Dr. Riew completed his orthopedics and internal medicine residencies at George Washington University and Cornell Medical Center, respectively. He has held the position of president of the Cervical Spine Research Society (CSRS). In addition to editing multiple textbooks, he has produced over 300 peer-reviewed papers, over 75 chapters, and other manuscripts.
Expertise
Orthopedic surgery
Spine surgery
Cervical spine disorder and tumor
Kyphosis and scoliosis
8. Dr. Abdul Baker, Texas, USA
Dr. Abdul Baker is one of the most renowned and famous neurosurgeons, working in Sherman, and Plano, Texas. He is the finest neurosurgeon in the USA, using minimally invasive techniques and robotic procedures to perform critical neurosurgeries. He got a Doctor of Medicine degree from Wright State University in Ohio. Then, he did a residency in neurosurgery at the University of Louisville and completed his spine and peripheral nerve fellowship at Johns Hopkins University. Dr. Baker is certified by the American Board of Neurological Surgery and is a diplomate of the American Board of Neurological Surgery. He has been working for the last 15 years in neurosurgery and is surely one of the best neurosurgeons in the world.
Expertise
Brain and Spinal Tumor
Neurosurgical Spine Surgery
Neurotrauma
Peripheral Nerve
9. Dr. Gurneet Singh Sawhney, India
Dr. Gurneet Singh Sawhney is one of the modern neurosurgeons in India who is an expert in minimally invasive surgical procedures. He has established himself as the leading neurosurgeon in Mumbai with more than 18 years of combined experience, including six years as a specialist. In recognition of his remarkable work in rural Maharashtra, he was also named the most promising neurosurgeon in Maharashtra by Times CyberMedia International Leadership Award.
Expertise
Neurooncology
Neurotrauma
Vascular Neurology
Neuroendoscopy
10. Jurij Kseniuk, Warsaw, Poland
Dr. Jurij Ksenuik is a spine surgeon with extensive expertise who graduated from the Medical University of Lviv and the Institute of Neurosurgery A. Romodanov in Kiev. His areas of expertise include complete diagnoses, surgical treatment of spine diseases, and pain management techniques that are minimally invasive. He earned the best clinical case of the month award in the international Vexim Rebalancing Spine competition twice, in March 2017 and May 2018. He has also been a member of the Polish Society of Spine Surgeons and AO Spine, the international association of spine surgeons.
Expertise
Spine Surgery
Spine and peripheral nervous system pathologies
Sacroiliac joint pathology
Minimally invasive fusion surgery
11. Akin Akakin, Istanbul, Turkey
With more than 20 years of expertise, Dr. Akin Akakin is a highly-skilled neurosurgeon in Istanbul, Turkey. He is famous for his skills in Cerebrovascular diseases, Neurovascular surgery, Lumbar disc surgery, Aneurysms, and more. He graduated from Marmara University's School of Medicine. His remarkable educational history includes a doctorate program in brain and nerve surgery and neuro-anatomy from Florida University. He has also published a number of publications in conferences and journals, both locally and internationally.
Expertise
Discectomy
Deep brain stimulation (DBS) surgery
Laminectomy
Herniated disc surgery
12. Ralf Buhl, Solingen, Germany
Dr. Ralf Buhl is a famous neurosurgeon with over 20 years of training. He headed the Neurosurgery Division at Solingen Klinikum. He also gives seminars on neurosurgery in China and US, where he is very famous due to his expertise. Dr. Buhl specializes in non-invasive techniques for treating brain, spinal cord, and disc malignancies. He performed almost 4000 neurosurgical procedures, and all were successful. In addition, Dr. Buhl carries out scientific study and research in the areas of treating intracranial cavernomas, operating on brain metastases, and other neurosurgical specialties.
Expertise
Discectomy
Brain tumor removal
Craniotomy
Laminectomy
Herniated disc surgery
Pituitary tumor surgery
13. Professor Pietro Mortini, Milan, Italy
Famous Italian neurosurgeon Professor Pietro Mortini has been practicing for over 30 years. Currently, he is the head of the Experimental Neurosurgery Unit at San Raffaele Scientific Institute and treats patients at Ospedale San Raffaele. Moreover, Dr. Pietro serves as a visiting professor at George Washington University in the United States. The doctor has patented the procedure for creating a device for renewing biological tissues. The Italian Society of the Cranial Base has Doctor Pietro as a member.
Expertise
Neurosurgery
Radiosurgery
14. Dr Henry Brem, M.D, USA
In addition to serving as the department's director and chief neurosurgeon, Henry Bram holds the Harvey Cushing Professor of Neurosurgery title at Johns Hopkins University. Dr. Brem attended New York University for his undergraduate studies, Harvard for his medical degree, and Columbia for his Neurosurgery residency. He established one of the world's largest brain tumor research and treatment facilities at Hopkins. His areas of interest are direct chemotherapeutic delivery to the brain, anti-angiogenesis medications, computer guidance systems used during surgery, brain tumor vaccinations, and new clinical treatments for brain tumors.
Expertise
Acoustic Neuromas
Brain cancer/tumor
Pituitary tumors
Metastases brain tumors
15. Dr. Jürgen Kiwit
Dr. Jurgen Kiwit is a neurosurgeon from Germany with over 25 years of expertise. He oversees the Neurosurgery Department of Meoclinic Berlin and specializes in the treatment of paraplegia, blood circulation issues, and diseases, including spinal cord and brain tumors. He received his training in the UK and the USA and is a member of both the American Association of Neurological Surgeons and The German Society of Neurosurgery. His specialties include the treatment of gliomas, complex brain aneurysm procedures, pain management, and specialized therapy for brain injuries and disorders of the nervous system.
Expertise
Neurosurgery
Pediatric Neurosurgery
Clinical oncology
Spinal cord and brain tumors pathologies
16. Isabelle M Germano, NewYork, USA
Dr. Germano is a broad-certified neurosurgeon who specializes in the most cutting-edge analysis of and cares for patients with brain tumors. She is the first woman to hold a leadership position since the American Association of Neurological Surgeons and Congress of Neurological Surgeons (AANS/CNS) was established in 1984. She has been chosen Chair of the Section on Tumors. More than 50 owners have been given to Doctor Germano for her leadership in neurosurgery. 6 books and 150 peer-reviewed scientific articles are to her credit.
Expertise
Acoustic Neuroma
Astrocytoma
Craniotomy
Brain, Spine Tumors
17. Dr. Ossama Al-Mefty, Boston USA
Dr. Al. Mefty is the current Head of the Skull Base Surgery Program at Brigham and Women's Hospital, Harvard Medical School in Boston. His contributions to science may be in more than 500 publications, including over 236 peer-reviewed journal articles and nine books that he either wrote or edited. He is a well-known lecturer who has given more than 1,000 presentations and 90 visiting professorships at universities around the nation and abroad. Dr. Al Mefty has used his extensive clinical knowledge to examine and characterize the biological behavior of chordomas and meningiomas.
Expertise
Neurosurgery
Meningiomas
Acoustic Neuroma
Skull Base Tumors
Spinal Cord Tumors
18. Dr. Ali Krisht
In addition to leading the cerebrovascular and neuroendocrine clinics at CHI St. Vincent, Dr. Ali Krisht is the co-founder and director of the Arkansas Neuroscience Institute. Dr. Krisht specializes in pituitary tumors, skull-base tumors, and cerebrovascular medicines. In addition to serving in various national and international societies, he routinely serves as a visiting professor at national and international conferences. He has also been the director of more than 40 workshops. Besides this, he is a member of various medical publications' editorial boards and has been the chief editor of Contemporary Neurosurgery since 1999. Fifty peer-reviewed manuscripts and 20 written books are at his credit.
Expertise
Neurosurgery
Pituitary tumors
Skull base tumors
FAQs
1. What diseases and circumstances may neurosurgery treat?
Many illnesses, such as brain and spinal cord tumors, traumatic brain injuries, strokes, aneurysms, epilepsy, and movement abnormalities, can be treated using neurosurgery.
2. What training is necessary to become a neurosurgeon?
Typically, obtaining a medical degree, completing a residency in neurosurgery, and passing license examinations are prerequisites for becoming a neurosurgeon. After completing undergraduate degrees, this process can take 8–10 years.
3. What are the dangers of having brain surgery?
Like any other surgery, neurosurgery has hazards, such as those linked to bleeding, infection, and anesthesia. Yet, these hazards can be reduced using current technology and cutting-edge surgical methods.
4. How long does recovery from neurosurgery take?
The length of recovery depends on the procedure performed and the patient's general condition. In a few weeks, some patients could be ready to resume their regular activities; others would need many months of rehabilitation.
5. Does neurosurgery hurt?
Neurosurgery patients should not feel any discomfort because they are given an anesthetic before the treatment. Yet, some discomfort or pain is typical during the healing process.
6. What may I expect from my initial consultation with a neurosurgeon?
A neurosurgeon will evaluate your medical history, conduct a physical examination, and talk with you about your symptoms and available treatments during your initial consultation. Then, to help diagnose your ailment, they could prescribe additional tests, including imaging studies.